VIDEOS: The Greencards keep the bluegrass fires going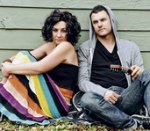 Now that the bluegrass festival season is over, it's a big deal when a top-notch band comes to the region. The Grammy-nominated Greencards are a progressive, so-called "newgrass" band, steeped in the bluegrass genre, but experimental and contemporary. The group will perform on Friday, Oct. 19, 2012, at the vaunted Me & Thee Coffeehouse in Marblehead. If you have never seen this unique band, which bring a touch of international flavor to the stage, you owe it to yourself to check them out.
The quartet, based in Nashville, are spearheaded by bassist and lead singer Carol Young and mandolinist Kym Warner, both originally from Australia. Their sound is a sweet mix of contrasts, from powerful and driving, to intricate and improvisational, to sultry and magically melodic. I have seen this band several times over the years. Though they may delve into a repertoire of original numbers that have become deliciously familiar, I always come away amazed and surprised and smiling.
READ A QUICK INTERVIEW WITH KYM WARNER
Currently, they are touring their fifth CD, "The Brick Album," which Time magazine describes as containing "laid-back tunes that land in a sweet spot halfway between Americana and traditional bluegrass." "The Brick Album" is the first to successfully infuse The Greencards' eclectic musical references with the excitement they generate onstage. "We've been striving for this since our first record," says Warner. "We recorded totally in one room this time, with very little isolation. It was all about doing the performance now, without going back to add anything later on." It sounds like this one would translate well to the Me & Thee stage.
Opening will be area songwriter and mandolinist Jimmy Ryan, founder of Blood Oranges. Visit the
Me & Thee website
for more information.