A tribute to Ann Rabson, from Vance Gilbert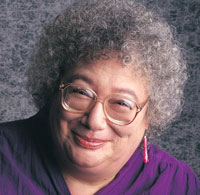 The world of blues lost one of its greats today.  Ann Rabson, 67, was a powerful singer, pianist,  guitarist and co-founder of the group Saffire: The Uppity Blues Women, who launched their style of  satirical blues in 1984 and performed for 25 years. I remember describing their music in 1993 "[They] sing the blues from a clearly female perspective with an attitude and a touch of raunch. Their songs are about subjects that women will relate to and may make men squirm." And Rabson's steamy vocals were the heart of the band. Read an obituary.
Rabson died Wednesday, Jan. 30, 2013, after a long battle with cancer.
Boston singer-songwriter Vance Gilbert offered his personal tribute to Ann that I would like to share with you today:
Ann Rabson, A Tribute, by Vance Gilbert, guest columnist
I'm currently reading Miles Davis' autobiography right now. I tend to be one of those people affected by what they are reading at that time, so, as I am about halfway through, Miles is just now kicking his horse habit, and he's angry and as Black Nationalist as one could ever be. He's angry that Lee Konitz, Gerry Mulligan, and Chet baker are getting somewhat free passes for their horse addictions and being lauded as the purveyors of the New Cool Jazz. He's angry that Black musicians their equal , and the creators of that genre *and* bebop, for that matter, are being maligned for their drug use, and worse, being ignored.
He's suspicious. And angry.
These stories abound for Black musicians. It's like an old tape played over and over and just before the reel spools off the last piece of tape, that it's somehow white musicians who did it, refined it, carried the torch… the story is omnipresent in our lexicons, and it's tiring, daunting, maddening.
So, as Black musicians, many of us narrow our eyes at white practitioners of the most sacred of the original American musical art forms – jazz and blues. Mind you, as a practitioner, I am not a purist. And it has wreaked hell and havoc for my career. However, as a listener, I am steely in my examination of "great white players" of these genres. You have to rock the house, be utterly consummate, *genuflectional*, in every word, phrase, passage, note, and bar you play to the originators of the art form. Is that racist? To set the bar so high into the simultaneous stratus of performance and history? No, I don't think so. The best white players of these musics will agree with me hands down.
They know what's up.
So you'll have to excuse my nationalistic attitude. It's partly Miles' book. Yeah that's what it is. I'm not racist. I'm protectionist, based on a loooong history of usurped art and science, wartime accomplishment, and writing this country has handed the Black musician as his/her history.
That said, here's a list for you, in no particular order of alphabet or genre, of White artists that soothed my history-rubbed-raw soul, and made me think that there was indeed a God that was struggling to make equals of all of us people even with the differences they brought to what they did:
Average White Band
John Hammond Jr.
Martin Sexton
Bobby Caldwell
Amy Winehouse
Christina Aguilera
Stevie Ray Vaughn
Teena Marie
David Sandborn
Ronnie Cuber
Ann Rabson
I remember the shock when I first saw Average White Band on the Midnight Special in the 70's. "Scottish? Boy, they sure are light-skinned…" Stupid me..
I love the story about Bobby Caldwell stepping on to the stage at the Apollo Theatre to sing his hit "What You Won't Do For Love." Black folks stared silent till he sang. The rest is history.
And I loved soundcheck at the Calliope House in Pittsburg in April of '09.
I am pretty influenced by what I read, did I tell you that? So, if I had his voice, Me/Miles might say:
"Man, I was splitting this night with this woman, Ann Rabson, in Pittsburg. Sweet, older, grand-mamma type white lady. I had heard her with that group she was with, and it was cool, but never had I heard her do her thing. When I heard her in soundcheck, I said to myself, "man, this ol' white lady swings like a m**********r, and sings too." Then she said back stage while we were eaten Chinese food, "Why don't you join me on a number during my set?" What could I say? She was so gracious with her stage, actually called me up for her encore! So we did God Bless The Child, and I tell you, you turn your back it was like Ma Rainey was singing and Ferdinand La Menthe was playing. And if you don't know who either one of them is, you need to be reading something somewhere else and get schooled cause you ain't s*** here…. Lemme tell you, we knocked that out. THAT ol white lady could swing her ass off……"
And now, heartbreak at the end of the day. Ann was consummate, elegant, and perfect at what she did. And she liked me and what I did, and that meant the world to me. She was as Black, maybe Blacker than I could hope to be. Now that's a compliment.
Bye, love. We'll see what we can do about rocking the house without you.…