VIDEOS: The SteelDrivers new CD packed with mournful passion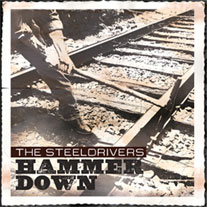 The latest entry from The SteelDrivers is long overdue. "Hammer Down" (Rounder Records) the band's third CD and first since 2010, will bring fans of this whiskey-hewn band to its feet, and new fans will be born, probably when the group debuts the CD at this weekend's Joe Val Bluegrass Festival.
Songs of heartache and defiance, love and cheating are performed in charismatic SteelDrivers dark and driving fashion, led by the powerful, gravelly voice of guitarist Gary Nichols, who came in a few years ago when Chris Stapleton left the band.
Here's the mournful tones of "I'll Be There":

This is Nichols' first CD with the band, and his presence has assured that the band's overall sound will endure. Coupled with the fine harmony singing and fiddling from Tammy Rogers and bassist Mike Fleming, along with solid banjo from Richard Bailey and mandolin from newest member Brent Truitt, the SteelDrivers' latest mix of string band music and bluegrass is likely to emerge as a favorite this year.
Here is "Lonesome Goodbye," performed at last year's Strawberry Park Bluegrass Festival:

The uninitiated may know The SteelDrivers by "If It Hadn't Been for Love," popularized by English pop star Adele, though bluegrass fans have enjoyed it for much longer. Their music has a mournful passion, from Nichols' random cries in the heartbreaking opener "Shallow Grave," the countrified broken-hearted barroom dance mantra "Wearin' A Hole" to the musical hooks in "How Long Have I Been Your Fool" and the defiant reaction to abuse in "Burnin' the Woodshed Down."
Here's a live performance of "When You Don't Come Home"

The CD includes 10 new songs, some by founders Stapleton and Mike Henderson and some by Nichols & Rogers. They perform the cheating song "When You Don't Come Home" contrasted by the song of devotion "I'll Be There," one of two songs written by Nichols and Paul White (The Civil Wars).
If this is your first foray into SteelDrivers' music, this new release will no doubt cause you to pick up their first CDs as well.
Here's "Wearin' A Hole" performed at the 2012 Grey Fox Bluegrass Festival: