Of sunsets, bluegrass music and a party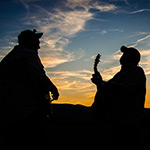 When the Grey Fox Bluegrass Festival was forced to move to Oak Hill, N.Y., in the Catskills in 2008, festival-goers lost one of the features that made the annual music event special — sunsets over the Berkshires and the Catskills that could be seen from anyplace on the festival grounds. 
The move forced a change in the way people lined up to attend the festival. The "Rodeo," a queue of campers who arrived in some cases months in advance, needed to find a new home. Fortunately, a few enthusiasts who enjoy camping, picking and partying together, organized a pre-festival gathering at a nearby farm. Calling it "The Foxhole," the hilltop location has filled the pre-festival void, providing not only a spot to get reacquainted, but offering a lovely sunset that folks don't see at the new festival location.
The festival remains the premiere bluegrass event in the Northeast, and it has rebuilt its soul and character on its new location at the Walsh Farm. In addition to the best lineup of top bands, the music festival offers events for everyone, and, for many people like me, it's like "going home" every year. My video below, featuring Sav Sankaran and Zach Mongan, had me reminiscing over sunsets over the years at Grey Fox and a renewed appreciation for what we now have. I just felt like sharing.
A growing cadre of festival-goers has come to appreciate The Foxhole. It offers some of the sunset majesty that they won't get at Grey Fox. And for many, it's become an essential must-go location and camping experience.
Sav Sankaran and Zach Mongan jam at sunset at The Foxhole