VIDEOS & PHOTOS: Frank Solivan & Dirty Kitchen adding just the right spice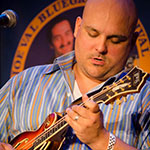 The bluegrass world is more exciting than ever, with bands stretching the genre like never before. Besides phenoms like the Punch Brothers and The Hillbenders, one of the spiciest tickets has been the Washington, D.C.-area band Frank Solivan & Dirty Kitchen.
Frank and the boys have been touring the country for some time now. Look for them at upcoming venues in Connecticut, South Carolina and Virginia.  Besides the band's kick-ass music, which varies from "newgrass" to to straight-up bluegrass to jazz and more, Solivan is a gourmet chef. At venues like the Grey Fox Bluegrass Festival and elsewhere, he's known to have brought some of his specialty dishes to workshops – The Dirty Kitchen Experience.
Musically, the band excels. This year, they were nominated in a half-dozen categories by the International Bluegrass Music Association. Guitarist Chris Luquette won the "Momentum Award" and legendary banjoist Mike Munford took the honors as Banjo Player of the year.
Solivan, contacted just after the band's appearance at IBMA in Raleigh, N.C., says the band is arranging new music and hopes to be in the studio early next year. Meanwhile, their latest CD project, "On The Edge" (Compass Records), features originals and new arrangements, with guests including multi-instrumentalist/vocalist Tim O'Brien and Dobroist of the Year Rob Ickes.
Here are some photos from the band's performance at the 2013 Joe Val Bluegrass Festival, held in February: