Joe Val Fest a musical oasis that kicks off bluegrass season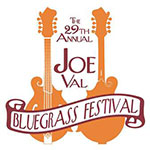 If you walk into Sheraton Framingham Hotel on Valentine's Day, don't be surprised if you are serenaded by fiddles and banjos.
Welcome to the world of the Joe Val Bluegrass Festival, a three-day musical oasis where the hottest bluegrass music offers an annual escape from the polar vortex.
The festival, being held Feb. 14-16, has been a mecca for bluegrass fans for 29 years. 
Forget that it lives in the hotel. It is February, after all. The environs get transformed. Fans take out their instruments and jam in the hallways, by the elevators and in their rooms. Top-notch entertainment and workshops are a short walk. And you can wear slippers to the shows, offered on two stages.
"We have a great relationship with the Sheraton Hotel staff, and they give us free reign to turn a business hotel into a festival playground," says festival organizer Gerry Katz. "We try to create a big outdoor festival, with all the fixings, but just in the cozy confines of the Sheraton Framingham Hotel."
See photos from some previous years
The festival offers a preview of bands fans normally would see during the spring and summer. That makes it an early showcase for regional and national acts. There's music for dyed-in-the-wool bluegrass fans, as well as for fans of country, rock, folk and other genre-bending acts. And since it is presented by the Boston Bluegrass Union, its mission is not just to entertain, but to further the advancement of bluegrass music by encouraging regional talent.
The national acts, naturally, are a huge draw, and are one of the reasons rooms at the Sheraton sell out, literally, in two minutes when they become available in November.
Headlining the festival this year are The Gibson Brothers, a five-piece ensemble fronted by New York siblings Leigh and Eric Gibson. Having first performed at Joe Val in the mid '90s, the brothers return carrying huge accolades: They were named "Entertainers of the Year" by the International Bluegrass Music Association, bluegrass music's equivalent of the Grammys.
"[Joe Val] holds a special place in our hearts," said Leigh Gibson, explaining that when the band was young, festival organizers helped them find their sound. "Joe Val was the first large festival audience for us to be in front of. They welcomed us back with open hearts and once again put us on our way to what we were and should be — a bluegrass band. It's been three or four years since we've been back, so we're excited to be a part of it again."
In all, IBMA handed The Gibson Brothers four awards. Leigh Gibson said that kind of recognition allowed the band to feel more relaxed and to explore their sound.
"Part of that exploration allowed our real personalities to show up," Gibson said. "Turns out people find us funny sometimes, just being ourselves. We don't script our shows or even follow a set list.  What you see is us being who we are and doing what we like."
Country fans will appreciate the special reunion of The Desert Rose Band, featuring rock n' roll hall of fame member Chris Hillman (The Byrds, Flying Burrito Brothers), Herb Pedersen (the Dillards, Laurel Canyon Ramblers, Old and in the Way, Emmylou Harris), John Jorgenson (Elton John, Bob Dylan, John Jorgenson Quintet), and Bill Bryson (Laurel Canyon Ramblers, Dan Fogelberg, Bluegrass Cardinals). During the late-'80s, this versatile ensemble chalked up seven top-10 country hits while never losing sight of their bluegrass, folk and honky-tonk roots.
Other featured groups this year include Junior Sisk, the IBMA's 2013 male vocalist of the year; award-winning singer Russell Moore with the dynamic IIIrd Tyme Out; Blue Highway, one of the most esteemed and influential bands in contemporary bluegrass; songwriter and Sirius-XM radio personality Chris Jones and his band the Night Drivers.
Regional bands like The Hillbenders, will debut this year, bringing a different flavor to the main stage. The Missouri group's hard-driving newgrass sound, has been winning over new audiences, with evocative interpretations of country, rock, jazz songs.
Nolan Lawrence, singer and mandolinist for The Hillbenders, says the band is looking forward to performing at Joe Val for the first time.
"Every time we get anywhere near the Northeast, there's always someone talking about how great the Joe Val festival is," said Lawrence, reached at his Missouri home. "When an event generates that kind of excitement in people, and wins awards like IBMA Event of the Year, it's obviously doing something very right … We are thrilled to be on this year's lineup and very much looking forward to finding out what all the buzz is about."
Other main stage bands will include: Sister Sadie featuring Dale Ann Bradley, Balsam Range, Sideline, Special Consensus, The Spinney Brothers, Detour, Bluegrass Gospel Project, Berklee All-Stars, The Reunion Band, The Feinberg Brothers, Dick Bowden's Flying Circus Tribute to Don Stover, and The Lonely Heartstring Band.
"We try to mix established bands that are doing great things, and these emerging talents that need a proper showcase in the region," Katz said.
The festival features master classes and more than 60 workshops for musicians and singers hoping to hone their craft, and you are likely to see several music vendors. The festival is known for its efforts in encouraging the next generation of bluegrass performers, by teaching and then featuring on the main stage the Joe Val Kids Academy, now in its 12th year. Dozens of children ages 5-17 participate.
Established in 1985, the Joe Val Bluegrass Festival celebrates the legacy of the late
Joe Val, a pioneering Massachusetts-based vocalist, musician, and bandleader, whose riveting performances, recordings, and generous nature did so much to spread the popularity of bluegrass in the Northeast. In addition to winning IBMA Event of the Year in 2006, in 2012 the festival was listed by USA TODAY as one of the Ten Great Places to Go to Bluegrass Festivals.
For more information or tickets, visit the festival website at http://bit.ly/joevalfest.