A celebration of Pete Seeger's life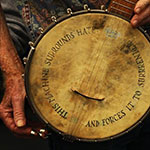 Pete Seeger died yesterday. But his legacy lives on.
Anyone who has ever picked up an instrument in song, protested loudly about injustice, taken up voice against oppression, dared to challenge authority, has lost his/her biggest advocate.
But the beauty is, we can do those things. Pete showed us the way.
He sang songs against injustice. He peacefully faced down government interrogators at personal loss (and gain). He showed us that music is universal. That the collective voice is stronger than those who would bring us down. And that life is worth living to the fullest.
Pete did that, right til the end of his 94 years.
Folk singers and fans and people affected by Pete everywhere are chiming in on Facebook about what Pete meant to them. I didn't know Pete personally, but I thought I would share some of their thoughts here….
The first is from Arlo Guthrie:
Pete Seeger:

I usually do a little meditation and prayer every night before I go to sleep – Just part of the routine. Last night, I decided to go visit Pete Seeger for a while, just to spend a little time together, it was around 9 PM. So I was sitting in my home in Florida, having a lovely chat with Pete, who was in a hospital in New York City. That's the great thing about thoughts and prayers- You can go or be anywhere.

I simply wanted him to know that I loved him dearly, like a father in some ways, a mentor in others and just as a dear friend a lot of the time. I'd grown up that way – loving the Seegers – Pete & Toshi and all their family.

I let him know I was having trouble writing his obituary (as I'd been asked) but it seemed just so silly and I couldn't think of anything that didn't sound trite or plain stupid. "They'll say something appropriate in the news," we agreed. We laughed, we talked, and I took my leave about 9:30 last night.

"Arlo" he said, sounding just like the man I've known all of my life, "I guess I'll see ya later." I've always loved the rising and falling inflections in his voice. "Pete," I said. "I guess we will."

I turned off the light and closed my eyes and fell asleep until very early this morning, about 3 AM when the texts and phone calls started coming in from friends telling me Pete had passed away.

"Well, of course he passed away!" I'm telling everyone this morning. "But that doesn't mean he's gone."
"I was very very lucky to sing with Pete Seeger several times, some of the most thrilling moments of my life. But perhaps my favorite memory was sitting down with him a couple of years ago and telling him how much my daughter loved his book/song "Abiyoyo", and he proceeded to tell me the WHOLE wonderful story of how he wrote it. Thank you Pete for all the gifts you gave us." — Lucy Kaplansky, singer-songwriter
—
"The same day we learn that Pete Seeger left us, President Obama signs an executive order raising the minimum wage for hundreds of thousands of workers. Pete would like that, probably have a song for us about it. We'll have to sing it ourselves now." — Scott Alarik, folk singer and author. 
"Fame is a funny duck in the folk world. Folk's notion of fame has always been both larger and smaller than the kind of fame pop culture celebrates. Nathan wanted to explore that in one of the classes, because it showed some essential demarcation points between folk and the mainstream music industry. He knew a couple of stories that fit the bill.

In the 1970s, Pete Seeger was invited to sing in Barcelona, Spain. Francisco Franco's fascist government, the last of the dictatorships that started World War II, was still in power but declining. A pro-democracy movement was gaining strength and to prove it, they invited America's best-known freedom singer to Spain.

More than a hundred thousand people were in the stadium, where rock bands had played all day. But the crowd had come for Seeger.

As Pete prepared to go on, government officials handed him a list of songs he was not allowed to sing. Pete studied it mournfully, saying it looked an awful lot like his set list. But they insisted: he must not sing any of these songs.

Pete took the government's list of banned songs and strolled on stage. He held up the paper and said, "I've been told that I'm not allowed to sing these songs." He grinned at the crowd and said, "So I'll just play the chords; maybe you know the words. They didn't say anything about you singing them."

He strummed his banjo to one song after another, and they all sang. A hundred thousand defiant freedom singers breaking the law with Pete Seeger, filling the stadium with words their government did not want them to hear, words they all knew and had sung together, in secret circles, for years.

What could the government do? Arrest a hundred thousand singers? It had been beaten by a few banjo chords and the fame of a man whose songs were on the lips of the whole world.

Folk is thought of as a fringe music, but what rock star has that kind of fame? Which of the world's great pop stars could have done what Pete Seeger did, knowing that a hundred thousand people from another country, speaking another language, would know the words to the songs he came to sing for them? And that they would rise and do it in defiance of their government? That is fame."

A true story, excerpted from "Revival: A Folk Music Novel," by Scott Alarik
Also read Scott's tribute to Pete, which ran in 2006 in "Sing Out" the folk music magazine. Pete knew, Scott says, "it would be his last chance to tell his story in the magazine he helped create, to his fellow folkies."
—

It looks like the rumors are true. We've lost Pete Seeger. The man was a giant of 20th-century American music. From the 1940s to the present day, Seeger has been among the most visible popularizers of the full spectrum of traditional American music—a spectrum which, in his view, includes bluegrass. His performances (with the Almanac Singers, with the Weavers, and as a solo artist), recordings, and writings have promoted awareness of traditional music in geographical regions and social milieux in which it might otherwise not have been heard, especially in urban areas, the northern United States, and college campuses. And through his gentle and warm on-stage demeanor, he has promoted an image of the banjo-wielding traditional musician as a dignified artist worthy of respect, in stark contrast to the comic or threatening hillbilly imagery that the mass media have all too often chosen to present.

This spreading and popularizing of traditional music was one of the major developments in modern popular music. Without the influx of tradition-conscious folkies, the rock and pop music of the '60s and '70s would have been VERY different. On a personal level, a city-bred Yankee like me (and thousands of others) might never have heard bluegrass, which has shaped my life these past few decades. I know Seeger was the first banjo player I ever saw live, and I learned the basics out of his book (see my cover photo).

I could go on and on, but for now I'll just say that Pete lived a good, long life that touched a lot of people, and left behind a world that was better for his presence in it.

In pace requiescat.

— Ira Gitlin, banjo player, teacher
Links:
Read Andrew C. Revkin's remembrance on NYTimes.com.
Read the transcript: Pete pisses off the House Un-American Activities Committee
Watch lots of videos of Pete on Youtube.
See what people are tweeting about Pete.
Gawker's 94 reasons Pete Seeger matters in 2014 (and forever, for that matter).
—
"In the mid-60's at my first Newport Folk Festival, I gave what little money I had to the Clearwater Project, as it was his dream to build a sloop & sail her on the Hudson. When he finally picked her up in Maine, he sailed her down the coast… stopping at towns along the way to play fund raising concerts. I saw the one in an old theater (now gone) in New Bedford. Rev Gary Davis, Pete, & so many other great performers held us in rapt attention… including a young fellow named Don McLean (pre-"American Pie"). [One of my first appearances at the old Tryworks Coffeehouse open mic, I sang Don's song "And the Rain Falls" that I'd learned that night in one listening!]

I loved his music, his joy of Life, his sharing of what Mattered Most to him. So many many songs I first heard from Pete. I know many of my fellow musicians (& music lovers everywhere) feel as I do & are grieving today." — Art Tebbetts, New Bedford folk singer
"When Pete sauntered on stage … my heart nearly flipped out of my body. I was in the presence of true greatness." — Kathy Sands-Boehmer, organizer of the Me & Thee Coffeehouse, Marblehead. Her video below was from that same surprise 2011 visit from Pete at a song circle in Newport:
 —
"I cannot imagine a life without Pete. From the time I remember, he informed my moral and ethical being, through his songs, and through the righteous life he led. He took on giants, and beat them. And through it all, he remained approachable and human. As an artist and a human being, I would be proud to leave that kind of legacy." — Janis Ian, singer-songwriter
—
Friend..mentor… role model… gracious giver of time and attention…

Pete Seeger leaves behind a legacy that, literally, the whole world can share because he lived his life as if HE cared about the whole world.

How rare is that? Kim and I will miss him!! But we have him always… in those moments where he helped us to realize that it's not about us and how pretty we can sing. It's about how much more beautiful the world is when we all sing together! We are his kids..

Thanks Pete! You Rock…You Folk…You Matter! — Reggie Harris, folk singer
"Pete, yours was the first recording I had as a 5-year old, your voice led me into folk music. I can only thank you by living my life in a way that reflects your example. Go well." — Allison Aldrich Smith, New Hampshire"
—
Another great one has passed…but he got the whole world to sing." — Barnes Newberry, WMVY Radio
—
I've been a fan of Pete's since hearing my parents' old vinyl records growing up half a century ago. We will continue singing the Rainbow Way at Rainbow Gatherings and remember old Pete for bringing Wimoweh to the world over 60 yrs ago. I was fortunate to meet and jam with Pete during Mayday in Washington, D.C., 1971. We've enjoyed a long friendship ever since. He's been active and performing right up to the very end. What an inspiration to all of us to never quit and retire! Goodbye and safe journeys. R.I.P. brother Pete! — Henry the Fiddler, wandering minstrel

—
Pete's advice to me was always pretty simple, "You need old folk's music AND young people's music. You see, without one you can't have the other."

To that point, one year, I think it was 2011, I was trying to find Pete to discuss his annual sing-along finale and couldn't find him. I got on the walkie and started asking if anyone had eyes on Pete. Just then a member of our security team ran up to me with a crazed look and said someone had climbed the scaffolding on stage left and was refusing to come down. I ran over and sure enough there was Pete Seeger at 92 years old, 25 feet up in the scaffolding watching Gillian Welch & David Rawlings sing with The Decemberists. When he finally came down I asked him what the hell he was doing. He told me he was tired of everyone around him making a fuss and he just wanted to hear some new music.

If asked how to pay tribute, my guess is Pete would say support a cause, join a movement, sing a song or just go chop some wood.

Luckily, we also have this small video of a man who lived a large life, too.

– Jay Sweet, Producer, Newport Folk Festival
—
"I choose to celebrate Pete's incredible life and artistry rather than his passing. May we all strive to emulate him." — Folk singer and actor Ronny Cox
"A man I so much admired not just for his music but for standing up to the powers that be and not letting them brow beat him into singing songs they approved of. He will be very sadly missed and I hope his brother Mike and his Grandson will keep his memory alive just like Woody Guthries son has. RIP Pete may you entertain the angels with your banjo." — Helene Richmond, UK
—
Watch an entire 2008 performance in New York. Thanks to Fred Robbins for this exclusive video:
—
Singer-songwriter Jonathan Byrd offered a poignant story about meeting with Pete in 2004:
"In 2004, I woke up on a couch in the cabin that Pete Seeger had built on a hill outside Beacon, New York. His grandson Tao was staying there and I was hanging with Tao. The Seegers lived across the driveway in a modern house.

"I heard Mr. Seeger had built the cabin by himself. Sitting in the log living room having coffee, I stared at the massive stone lintel over the fireplace. It must have weighed five hundred pounds.

"Grandpa walked over to visit with us in the afternoon. Tao encouraged me to play a song. Mr. Seeger listened intently and then apologized for his poor hearing. He sat beside me and asked me to speak the lyrics again. He asked questions until he was sure he understood.

"I had one question for him. I pointed at the fireplace and asked, "How did you get that stone into place?"

"He smiled and reminisced for a moment. "I lifted one end and wedged a stone underneath it. Then I lifted up the other end and got a stone under that side. I kept going like that until I had it where I wanted it. It took a while."

"Pete Seeger was not in the tradition that I grew up with. In that moment, sitting with him on the couch where I'd slept, I couldn't have picked his voice out of a lineup. Tao introduced me to his grandpa's music later that day with an unreleased solo recording of a college gig in the sixties. The music was riveting, but it almost didn't matter.

"Pete Seeger was bigger than music. He was John Henry. He was Odysseus. He was Gabriel. He will not be contained in a thousand obituaries today, however hard we write. He will not be complete in the history books. When I met him he was a deaf old man who hardly seemed capable of half his legend, but I asked the right question and he told me his secret. When I think of him now, it's the only thing I really know about him:

"When a thing seemed impossible, he saw that it was only difficult. Then he worked until it was inevitable.

"Yesterday at NewYork-Presbyterian Hospital, he laid down his hammer and he died. Rest in peace, Pete Seeger."
—
Enjoy Harry Chapin's song about Pete: