Folk-rock 'catastrophe' comes to Marblehead coffeehouse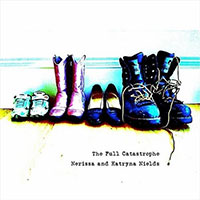 What does a folk-rock sister duo write about after 20 years in the music business; a career which produced 15 CDs, three books, a DVD, a thriving children's music educational empire, four children and two husbands (one apiece)?
The full catastrophe of course.
Taken from the line from Zorba the Greek: "I'm a man, so I married. Wife, children, house, everything. The full catastrophe," The Nields sisters have created a powerful, passionate, thoughtful, humorous work that explores the crazy ride that is this insane twenty-first century idea that in a post-feminist world it might somehow be possible for a woman to raise her children, maintain her relationship and career and contribution to her community while tending to her artistic soul at the same time. If it is possible, the Nields come damn close with "The Full Catastrophe," their sixteenth album in two full decades of work. Since the heyday of their legendary band The Nields, they have reduced their touring to make time to see their kids' piano recitals, soccer games and school pageants yet still maintaining a strong presence in the folk world, branching out to writing books and teaching workshops.
Singer-songwriter and fellow folk-rocker Dan Navarro, who has left his mark in music, films and commercials, will split the bill with the Nields at the Me & Thee Coffeehouse in Marblehead, Mass., on Friday, March 7. 
"The Full Catastrophe" is an offering to everyone who struggles to balance a home life — with or without kids or partner — with an artistic life, which is to say a work life, for all who labor honorably may choose to do so artistically. "The older we get, the more precious both seem to us. Nerissa says, "I could certainly live without friends or family, but I am not sure I would want to. I could let my work go, say goodbye to the muse and my Les Paul, but that would be saying goodbye to joy. We might be happier simplifying our lives, but as Katryna said when we first began this project with the title track, happiness might be overrated. Our cups overfloweth. We choose those cups, and we surrender to the reality that this means many many spills need to be cleaned up."
Dan Navarro started his career as a songwriter, often with Eric Lowen, for artists as diverse as Pat Benatar (the Grammy-nominated "We Belong"), The Bangles, Jackson Browne, Keb' Mo', Dave Edmunds, The Temptations, Dionne Warwick, Dutch superstar Marco Borsato, The Triplets, Austin outlaw legend Rusty Weir and many more. In the 1990s, he recorded and toured with Lowen in the acclaimed acoustic duo Lowen & Navarro until Eric's retirement in 2009.
Dan has since transitioned into a growing solo career, increasingly in demand on the national concert circuit. He's moonlighted as a singer and voice actor for 25 years, in major motion pictures, television series, commercials and records, including the smash hit The Lorax, plus Rock of Ages, Happy Feet (1 & 2), (Oscar-nominated Real In Rio), Ice Age (2 & 3), Robots, The Emperor's New Groove; television series Prison Break, Family Guy, American Dad and The Cleveland Show; recordings with Neil Young, Andrea Bocelli, Luis Miguel, Jose Feliciano, Susanna Hoffs and Jon Anderson of Yes; and commercials for Shakey's Pizza, McDonald's, Toyota, Coca-Cola, Honda, El Pollo Loco, Nationwide and hundreds of others.
In 2009, after 22 years and 12 albums with Lowen & Navarro, Dan released the spirited Live at McCabe's, backed by his pals from Austin-based Stonehoney. His next album, Shed My Skin — his first studio album of new material — is slated for release in early 2014. Dan is a man of many talents and is a most excellent performer.