VIDEOS: Acoustic blues of Rishell & Raines in Mansfield, Mass. on Saturday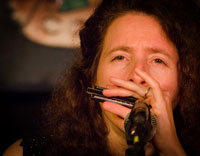 In the more than 20 years since Paul Rishell and Annie Raines met in a Boston bar, they have sung and played the blues. It's been a magical mix of acoustic blues guitar, harmonica and vocals that have propelled the duo to national acclaim. They return on Saturday, Nov. 8, 2014 to the Rose Garden Coffeehouse in Mansfield, Mass.
Paul Rishell is widely regarded as one of the best country-style acoustic guitar players around. Annie Raines' harp playing (harmonica) has been compared to some of the greats such as Charlie Musselwhite and James Cotton. They've been working together for about 21 years, and they've got the country, old-timey blues thing down cold. They met in 1993 during the recording of Paul Rishell's album "Swear to Tell the Truth," and have released several albums as a duo including, "I Want You To Know," "Moving To The Country," "Goin' Home," and "A Night in Woodstock."
"Moving to the Country" won the Blues Music Award for "Acoustic Blues Album of the Year" in 2000. They have also recorded and performed as members of John Sebastian's J-Band and appeared on the soundtrack to the film "A Prairie Home Companion." In 2013, Rishell was nominated for two Blues Music Awards, first in the "Acoustic Album" category for his album, "Talking Guitar" and also for "Acoustic Artist."
Raines has added vocals, mandolin, piano, and other instruments to her musical arsenal, while being recognized by top professionals and fans worldwide as the "queen of the blues harmonica." Says blues legend Pinetop Perkins, "She plays so good it hurts!"
Rishell and Raines are equally passionate about their craft and devoted to the study and performance of a wide range of blues styles, from the syncopated acoustic guitar wizardry of Blind Lemon Jefferson and Son House to Chicagoan "Little" Walter Jacob's swinging amplified harmonica. Paul has reached what "Boston Phoenix" writer Ted Drozdowski called "a place deep and resonant as Robert Johnson's crossroads, where authenticity, soul, and a sense of purpose and commitment ring out in every note he sings and plays."
Doors open for the 8:00 pm show at 7:30 pm and there will be a limited number of tickets available at the door. Advance sale tickets are recommended to assure seating and may be purchased at www.rosegardenfolk.com.