VIDEOS: Singer-songwriters Cosy Sheridan with winner Zoe Mulford at Mansfield's Rose Garden on Saturday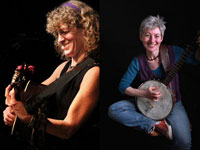 On Feb. 7, 2015 the Rose Garden welcomes two fine singer-songwriters, one a veteran performer who is renowned for her thoughtful and insightful music, the other a talented performer an clever songwriter who won the Performing Songwriter Competition last May.
New Hampshire's Cosy Sheridan first performed at the Rose Garden in the early 90s, about when she was catching the attention of national folk music audiences. She has been called "one of the era's finest and most thoughtful singer-songwriters," and she has won prestigious awards from the Kerrville Folk Festival and the Telluride Bluegrass Festival's Troubadour Contest.
A songwriting teacher at workshops and camps nationwide, Sheridan has recorded a dozen CDs and has written a one-woman show called "The Pomegranate Seed – An Exploration of Appetite, Body-Image and Myth." One of the most respected touring musicians, her music is fearless, clever and catchy, as she touches on subjects about modern adulthood, love songs, blues, gospel and issues that affect us all. The Cornell Folksong Society wrote:  "Sheridan is frank, feisty, sublimely and devilishly funny. She fuses myth with modern culture; Persephone with Botox."
Zoe Mulford endeared herself to the Rose Garden audience and its judges during the annual Performing Songwriting Competition in May 2014, becoming its 22nd winner. A resident of Pennsylvannia, Mulford says she considers herself fortunate not to have a "day job" so she can devote her time to writing and performing as she switches between guitar and clawhammer banjo.
Mulford performed only two songs at the May 2014 contest show, including "Welcome In Another Year," a traditional-sounding song which has become a seasonal favorite on folk radio, and her paean to troubadours and their music in "All of the Songs Were Road Songs." She will perform a full set on Feb. 7, with material from her four CDs.
It's said that Mulford's wonderfully crafted songs take listeners on a memorable journey filled with short stories, from a polar expedition in 1845 to a Greyhound bus ride. Backing her clear voice are songs drawn from the traditional music of the U.S. and from the British Isles (where she lived for a time) to make sense of the modern world.
Doors open for the 8:00 pm show at 7:30 pm and there will be a limited number of tickets available at the door. Advance sale tickets are recommended to assure seating and may be purchased at www.rosegardenfolk.com. The Rose Garden's all-volunteer staff serves home-baked dessert items and hot and cold drinks of the season before the show and during intermission. The Rose Garden Coffeehouse is located at The Congregational Church of Mansfield, 17 West Street, and is wheelchair accessible and alcohol-free.
The Rose Garden Coffeehouse is a 501(c)(3) not-for-profit organization currently in its 26th year of continuous operation. Complete information about the Rose Garden Coffeehouse, including photos and music from past performers, is available by visiting www.rosegardenfolk.com.