Fiddler Tex Logan, former Bluegrass Boy, dies at 85
Tex Logan's daughter Jody posted this information at 10:50 p.m.:
RIP Dad passed away peacefully just 30 minutes ago in my
arms. I was singing "Wayfaring Stranger" and told him to let himself go
and cross over … I am at hospital hugging him one last time … I will
make funeral arrangements later I was blessed for 58 years I will always
be your little girl.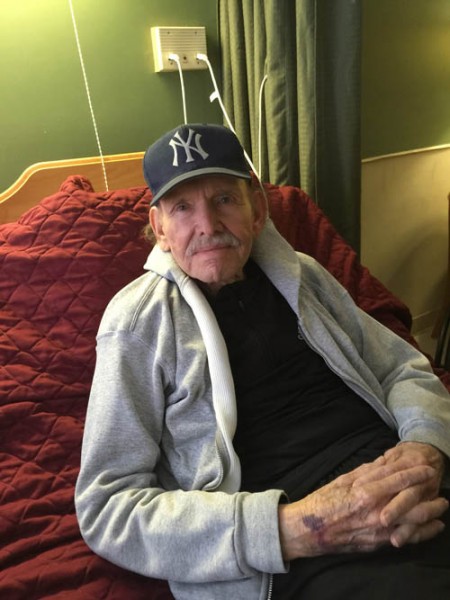 Benjamin F. 'Tex' Logan Renowned bluegrass fiddler and retired Bell Labs mathematician who bridged the gap between highbrow academics and country music, 87 Benjamin F. "Tex" Logan of Madison, N.J., died peacefully in the arms of his daughter, Jody, in Morristown, N.J., on April 24, 2015, at the age of 87.
The memorial service is Thursday, April 30, from 4 to 7 p.m. at Madison Memorial Home, 159 Main St., Madison, followed by a celebration of his life and legacy.
Born in Coahoma, Texas, on June 6, 1927, to Benjamin and Mabel (Hood) Logan, Tex earned a B.Sc. in electrical engineering at Texas Tech University, an MSc. from MIT (1956), and a Ph.D. from Columbia University. In 1956, he joined Bell Labs in New Jersey, where he developed advances in digital audio, patented an echo canceller used in satellite communications and, with colleague Larry Shepp, developed the Shepp-Logan phantom (1974), the standard for computerized tomography (CT) image reconstruction simulations of the head.
Dr. Logan retired from Bell Labs as a research mathematician in 1993. On weekends and evenings, especially during the summer, that same Dr. Logan, smartly attired in a cowboy hat and boots, took out his fiddle, and in foot stompin' spirit was off to a bluegrass festival. He thus transformed into Tex Logan, one of the best fiddlers in the history of bluegrass music.
In 2008, Tex was honored in Owensboro, Ky., as one of the legends of bluegrass, and on Sept. 30, 2010, received the International Bluegrass Music Association's distinguished achievement award.
Tex Logan played with Bill Monroe, Stoney and Wilma Lee Cooper, Mike Seeger, The Lilly Brothers & Don Stover, The Charles River Valley Boys, Peter Rowan and the Green Grass Gringos, as well as his own band, the Northeast Seaboard Blues Band.
Tex wrote "Christmas Time's A-Coming," a song made popular by Bill Monroe that has been recorded by many performers, including Johnny Cash, Emmylou Harris, Sammy Kershaw, Rhonda Vincent, and Patty Loveless, among others; and "Diamond Joe," recorded by Stoney and Wilma Lee Cooper, The Jerry Garcia Band, David Nelson, and the New Riders of the Purple Sage.
The jam-band generation adopted Tex as one of their own through his connection with big daddy Jerry Garcia, with whom he performed and recorded on several versions of Old & In the Way's new-grass projects. Tex Logan was a man who possessed the ability to bridge the gap between the highbrow academic worlds of mathematics and electrical engineering, and at the same time dazzled audiences and enthused fellow musicians with his high-energy virtuoso fiddling.
He will be profoundly missed. Mr. Logan is survived by his daughter, Jody Logan, and grandsons, Jamie and Ryan Berlin, of Madison, N.J.; brothers, Russell H. Logan and Samuel H. Logan, and many nieces and nephews. He was predeceased by his wife, Peggy, and his daughter, Laura Logan. The family would like to thank all of those who have sent their prayers and support. In lieu of flowers, donations to
St. Hubert's Animal Welfare Center
, 575 Woodland Rd., Madison, N.J., in Tex's memory would be appreciated.
Published in Star-Ledger on Apr. 29, 2015
– See more at: http://obits.nj.com/obituaries/starledger/obituary.aspx?pid=174744157#sthash.sO4vXwlQ.dpuf