VIDEOS & Q&A: Folk goddess Catie Curtis, contest in Mansfield on Saturday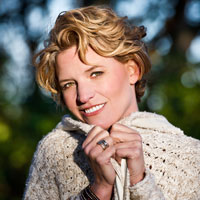 When I heard that we got Catie Curtis to perform at Saturday's Rose Garden, all I could think of was: It's about time! Curtis (website) has always been a favorite of mine, from the days I saw her perform at the Falcon Ridge Folk Festival to when I heard she'd won the Boston Music Award (several times!). Here is this endearing person who is true to her craft, writing thoughtful, accessible, often humorous songs that touch on themes about people's lives, who gives back to the songwriting community and to the community of humanity, raising awareness for the separation of church and state and for diversity. How could that not speak to the credo of folk singers everywhere?
"My goal is not just to reflect my own personal life, but to reflect back to people what happens in life, in their lives, in our world," Curtis says. "As we all know, sh#t happens."
It also seems fitting that Curtis, who runs a songwriter retreat every summer in Maine called "Catie at the Cove," will conclude the 26th season of the Rose Garden Coffeehouse in Mansfield, Mass., given that she will be performing after the show's 23rd annual Performing Songwriter Competition. The contest will features three songwriters (Christine DeLeon, Tom Smith and Dan Weber) performing two songs each and judged by a panel of industry judges on their songs as well as their abilities to perform them and to entertain. 
I sent Curtis a few questions ahead of her Rose Garden show. Her answers were short and to the point, and I'd like to share her responses:
Aside from performing, what moves you as a "folk" musician and as a human being?
CATIE CURTIS: Stories about people. Connecting one on one with people. Dogs and travel adventures. A well-written song. A room full of people enjoying great music.

Do you think there is a role for today's folk singer that differs (or is the same as) the causes and songs of the classic folk era?
CC: These days, so much of our time is spent interacting with devices and technology. I think the irresistible thing about folk music is the interaction is all human. Wood and strings, stories and humor.

What song do you think people connect with the most from your latest CD? Why and what have they told you?
CC: I'm gonna answer "what song … from your catalog" and it would be "Dad's Yard." People say it reminds them of someone they love, or of themselves. I guess it's because the images are colorful and the idea of unconditional love, universal.

You have performed for celebrities and just average folks. What kinds of universal connection do you find between your audiences?
CC: Humor and tragedy touches everyone!

We welcome you to the Rose Garden, which is now in its 26th season. Is there anything that you will be performing Saturday night that is new or anything that you hope the audience gets from your show?
CC: We are going to have so much fun!
Curtis is a native of Saco, Maine. Having released 13 CDs, she is a 20-year veteran of the folk music circuit. She has performed at the White House several times, including at two inaugural balls, as well as with Lilith Fair and at Carnegie Hall. In 2006, she won the International Songwriting Competition for the Boston Music Awards, out of 15,000 entries. The New Yorker has called her a "folk-rock goddess."
Catie's 13th album, "Flying Dream" (2014), contains songs that are deep and soulful, telling honest and universal truths of the experience of living, written with Sugarland co-founder Kristen Hall. They were introduced by singer-songwriter Mary Gauthier (who last performed at the Rose Garden in 2011).
"We discovered that we were very compatible in writing together. After we had a couple songs under our belts, we both wanted to keep going and Kristin wanted to produce the album."
Though she is the consummate songwriter, she has also turned to producing. She's been producing Voices United Concerts, organized to raise awareness and funds for Americans United for Separation of Church and State. It's a bi-partisan non-profit organization that lobbies, litigates and educates to protect against religious extremism. The first season resulted in 75 house concerts, with at least one in every state, and the lineups have displayed the talents of folks including Sarah Silverman, Ani DiFranco, Dar Williams, Louis Black, Kate Clinton, John Gorka, Roy Zimmerman and Melissa Ferrick.
Curtis also officiates and performs at fans' weddings (having received her ordination online in 2011), teaches at song schools around the country, leads high school songwriting workshops, speaks on diversity.
The Competition
The coffeehouse's 23rd Performing Songwriter Competition is an ongoing effort to showcase the finest songwriters from around the country. This year's three finalists, chosen from almost two dozen entries, include Christine DeLeon of New York, Tom Smith of Dedham, Mass., and Dan Weber of Washington state. Read the bios on these fine performers.
Judges for the event will include some folks well-known in regional folk-music circles:
Rick Foster – Musician, songwriter, Attleboro Sun Chronicle's Reporter of the Year, former music showcase co-host, music appreciator.
Liz Freeman – Treasurer and founding member of the Boston Area Coffeehouse Association (BACHA) and coordinator of the Linden Tree Coffeehouse in Wakefield, Mass.
Barnes Newberry – Current disc jockey for MVYRadio and 12-year NPR veteran, Barnes was owner of restaurant and former music venue The Blackthorne Tavern in Easton.
The winner receives $100 and a gig next season at the Rose Garden, currently slated for Feb. 6.