Laugh along with Modern Man on Saturday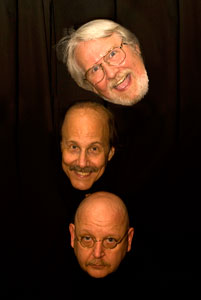 It has been a few years since the trio of David Buskin, George Wurzbach and Rob Carlson– the comedic ensemble known as Modern Man– graced the stage of the Rose Garden Coffeehouse in Mansfield. When they did, they left audiences in stitches, surprised by the fact that folk music, in all its seriousness, can often laugh at itself and in fact be hilarious. This Saturday's (Sept. 19, 2015) performance comes just in the nick of time and kicks off the Rose Garden's 27th season. The band is actually calling it quits sometime in October (until their inevitable reunion; we know how these things go!).
Carlson blames Wurzbach for this, noting that he will be focusing on a real career:
"George has been teaching music theory and technology for several years at Monmouth University in New Jersey," he said, quioting the website, though he recently said the same over the phone. "It has been a lifelong dream of George's to visit the Antarctic continent and perhaps even have the experience of standing at the South Pole. "So the good news is that Monmouth University has generously offered to finance the trip and will send George to Antarctica this fall. The bad news is, that due to budget cuts, the University does not have the funds to bring him back."
He jests, of course, but not about Wurzbach leaving the group. When Wurzbach leaves, Carlson will still be performing with his own Benefit Street Band (with Vin Pasternak and Paul Peyton), bringing enviable wit and character to whatever he touches. The band recently released a CD called "Angels on the Radio," a contemporary musical mix of folk, pop and a touch of Modern Man.
Who knows what Buskin will be doing, having toggled between Modern Man and his duo with Robin Batteau for several years. I first saw Buskin & Batteau opening for Tom Rush in the mid-80s, so I thoroughly enjoyed their insightful collaborations and was dismayed when in ended again in March of 2014. But no doubt Buskin will be back in some other musical capacity, since he keeps ending up in fascinatingly entertaining musical groups, adept at both songwriting, singing and finding the clever turn of phrase.
Modern Man has some new tunes since last they performed at the Rose Garden, including "Los Geezers Del Amore," a pinata-infused party that pokes fun at their own seniority, and which they offer for a free download.  What makes Modern Man unique is that they make folk music funny by their self-deprecating humor, a touch of political realism and perspective and a respect for the intelligence of the folk audience.
The late Mac McLanahan, my predecessor at the Rose Garden, always looked forward to the Modern Man shows, stating:
"These guys have the rare ability to combine superior musical talent with outrageous humor. We have never seen such a happy audience at the end of a performance… the most enjoyable show we have ever had. I can say – hands down – that Modern Man has been the most entertaining, funniest and most favorably commented-upon act we have ever presented."
For me, I just remember coming away from every show having escaped live for a short time, my facing hurting from laughter.
From 1998 through 2010 audiences up and down the East Coast and in such far-flung outposts of civilization as Ohio, Florida and Texas, Modern Man has offered a delightful change of pace. As Showbusiness Weekly put it: "Buskin, Carlson and Wurzbach should be arrested for being so funny." Or as Back Stage put it: "…these guys are the Thomas Alva Edisons of humor. They're inventive. You know, the bulb goes on."
Described as a cross between Crosby, Stills & Nash and the Marx Brothers, they are each celebrated singers and songwriters, "terrific instrumentalists with gorgeous voices and hilarious wits." Together they quickly redefined something-or-other and delighted audiences as they interweaved themes ranging from God to Godzilla, from manliness to cluelessness, from ESPN to the FBI with a vocal blend that has not been heard since Ella and F. Scott Fitzgerald went their separate ways.
In 1998 Carlson was performing at New York's legendary "Bottom Line" for an album of comedy songwriters when he met Buskin. David introduced him to Wurzbach and the three became Modern Man (joined originally by screen writer Andy Breckman, creator of the "Monk" TV series).
Modern Man went on to win Back Stage Magazine's "Bistro Award" in 2002 for Best Musical Comedy and the 2008 New York Nightlife Award for best comedy group in New York. They performed in clubs and cabarets, coffee houses, concert halls and festivals from Maine to Florida plus Tennessee, Texas and Ohio and Canada. Festivals include the Philadelphia Folk, Clearwater, Kerrville, Falcon Ridge and Summerfolk (Canada). Concert venues include Lincoln Center, The Bottom Line, Town Hall, The Barns at Wolf Trap and many more. Their debut CD, The Wide Album, recorded live at New York's "Bottom Line", their 2004 CD Modern Immaturity and their 2007 CD, "Assisted Living" are available on Rob Carlson's website.
But for now, they are performing together as Modern Man. Don't miss them at the Rose Garden, since this might be your last chance to see them!
New: For September, October and November's shows, the Rose Garden is offering free admission to folks 16 and under, with the purchase of an adult ticket.
Doors open for the 8 pm Roise Garden show at 7:30 p.m. Advance sale tickets are recommended and may be purchased at www.rosegardenfolk.com. Tickets are also available at the door.
The Rose Garden's all-volunteer staff serves home-baked dessert items and hot and cold drinks of the season before the show and during intermission. The Rose Garden Coffeehouse, is a 501(c)(3) not-for-profit organization entering its 27th season of continuous operation. It is located at The Congregational Church of Mansfield, 17 West St., and is wheelchair accessible and alcohol-free.
Stephen Ide is the artistic director of The Rose Garden Coffeehouse