Roosevelt Dime, an Americana, R&B ensemble coming Saturday to Mansfield + music, videos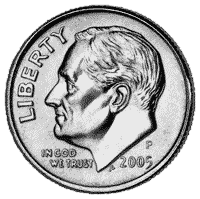 Perhaps it's Roosevelt Dime's slogan that says it best: "Love, Liberty and the Pursuit of Boogie." The four-piece ensemble from New York comes to Mansfield's Rose Garden Coffeehouse on Saturday, Nov. 14, providing a ton of heat and rhythm as the cold weather approaches. Described by some as "Mardi-grass," Roosevelt Dime brings a rich tapestry of musical goodness, rooted in the traditional, propelled by the power of New Orleans. Their music is Americana, if you must, but only in that it blends sounds reminiscent of the richness of many musical genres, from bluegrass to folk to rock 'n' roll to New Orleans R&B. In short, it's just plain fun.
Roosevelt Dime is quite different than any group who has performed at the Rose Garden, now in its 27th season. They are led by the dirty R&B vocals by Eben Pariser, a dynamic, bluesy guitarist (with a smattering of harmonica) who will get you singing along in tent-revival fashion. The steady banjo backbeat from Andrew Green adds syncopated rolls in a solid bluesy mix. Behind it all are Craig Akin's complex upright bass stylings and a solid groove from drummer Tony Montalbano.
The band describes its music as "purely American, transforming struggle into celebration, pain into perseverance, and taking the joyous beat from sidewalks and streetcars to backrooms and barrooms, from the ample hills of Brooklyn to the amber waves of grain." They unabashedly stretch the boundaries of folk, bluegrass and traditional music in ways that might just make people do more than tap their feet. They might just be inspired to dance. And the band has a blast doing it. Just watch their video of "Oh To Be," which draws from the traditional then goes in all kinds of fun directions.
Listen to Roosevelt Dime's 4 CDs (in their entirety, if you wish) …
Their high-energy live shows have thrilled audiences at premier festivals across the country. They've been lauded for their exceptional songwriting on their latest release "Full Head of Steam (2014)," and they have recently been featured in Relix Magazine, CMT Edge, Performer Magazine, The Bluegrass Situation, and the Alternate Root Magazine.
Roosevelt Dime's performance at the Rose Garden on Saturday, Nov. 14 will begin at 8:00. Doors open at 7:30 pm and attendees are urged to arrive early for best seating.  Tickets are $18 at the door, $16 tickets in advance at www.rosegardenfolk.com.
— Steve Ide is the artistic director of the Rose Garden Coffeehouse