Troubadour and blues in Mansfield on Saturday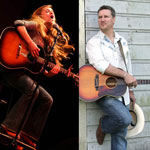 When Dan Weber and Danielle Miraglia perform a split bill at Mansfield, Massachusetts' Rose Garden Coffeehouse at 8pm on Saturday, Feb. 6, 2016, it promises to be an intriguing, exciting mix of styles.
Steeped in blues and a crystalline voice, Danielle Miraglia is armed with a steady thumb on an old Gibson, a stompbox rhythm, harmonica and heart-felt socially conscious tunes. Splitting the bill will be our Dan Weber, a story-laden troubadour who won our hearts with his tale of "Hank & Jesus" and the heartwarming "Goodbye to Dad."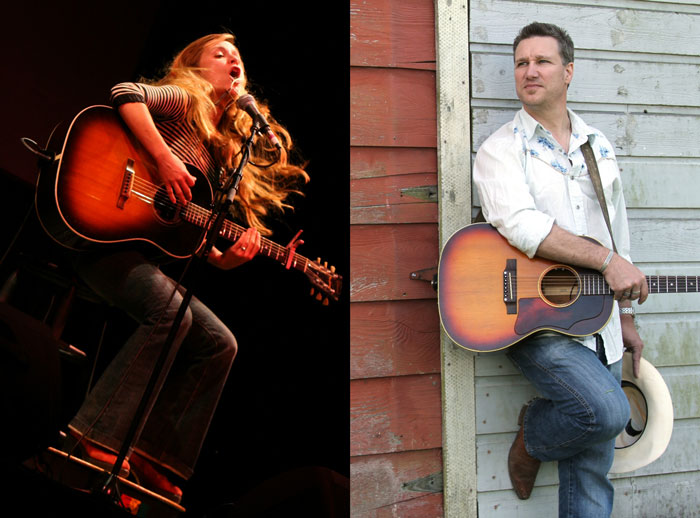 Weber brings to the stage his stories and a charming set of engaging songs that impressed the Rose Garden Coffeehouse judges last May, when the performer from the Pacific Northwest won the coffeehouse's 17th annual performing songwriter competition. Miraglia, meanwhile, is a dynamic Boston-area singer-songwriter, blues singer, as adept on blues harp as she is on guitar, who has shared the stage with the likes of Johnny Winter, John Hammond Jr., Joan Osborne, John Mayall, Sonny Landreth, Rodney Crowell and many more.
Doors open for the 8 pm show at 7:30 p.m. Advance sale tickets are recommended and may be purchased at www.rosegardenfolk.com. Tickets are also available at the door.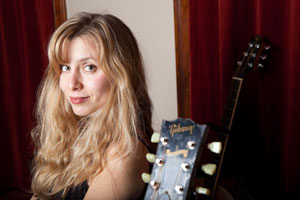 Danielle Miraglia's music blends the classic rock vibe of The Rolling Stones and Janis Joplin with her signature lyrical ability to explore human nature at its best and worst. Miraglia was nominated for a 2015 Boston Music Award for Singer-Songwriter of the Year.
Raised in Revere, Mass., where its famous beach is better known for girls with big hair than its history as a popular tourist attraction, Miraglia was raised on a variety of popular music, from her parent's Motown records to the classic rock influences like The Rolling Stones and Led Zeppelin that encouraged her to learn to play guitar at 13.
A passion for the arts and an outstanding gift for writing led her to Emerson College in Boston's downtown theater district. After graduating with a degree in Creative Writing, she put her writing skills, originally intended for novels, toward songwriting. She began performing at open mike nights in the Boston area. Here she "found her tribe" as she describes it and set out on a full time musical career.
Miraglia's debut full length record "Nothing Romantic" was a breakthrough for her as a serious songwriting force, who could put into words what so many feel — a true explorer of the complexities of the human condition.
Jon Sobel of Blogcritics.com described her song "You Don't Know Nothin'" as "One of the best new folk songs I've heard in years. Its depiction and dissection of human misunderstanding is both sharp and tender. All you need to know about what drives people apart and what draws them together can be witnessed in a few hours spent in a bar. Many of us feel something along those lines, but Danielle Miraglia is that rare songwriter who can put it into words."
Danielle's second release "Box of Troubles," explores the highs and lows that life has to offer with bare bones instrumentation. Alternate Root says "Danielle Miraglia's guitar work keeps Delta traditions alive. Her steady thumb and playing style trace a direct line to the blues of the field and chicken shacks. Vocally, Danielle's voice digs in, twisting within the delivery, seeming to break but more likely soaring before the fall. 'Box of Troubles' balances good times with the bad, her characters' roles' defined and believable."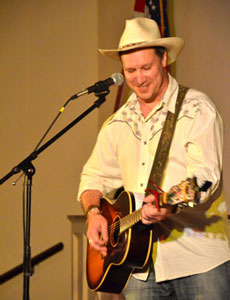 Award Winning songwriter Dan Weber has been described as "The Classic Mid-Life Overnight Sensation" after bursting onto the festival scene in 2010 to a standing ovation at the Sisters Folk Festival for his engaging set in the Dave Carter songwriting contest. Since then he's toured extensively across the country becoming a rare three-time finalist in the legendary Kerrville 'New Folk' competition, had two top finishes in the Woody Guthrie songwriting contest and in 2015 won the prestigious Winfield, Kansas 'New Song' contest for "Oh Woody," his anthemic tribute to Woody Guthrie, that rose to #2 on the Folk charts in 2015.
An ex-Park Ranger, former Eagle Scout, altar boy and lifelong 'Deadhead,' Weber began performing later in life at age 40, but being a gifted storyteller, he quickly won over audiences with his natural charisma, upbeat performances, authentic songwriting, and off-the-cuff hilarious stories from the many roads he's traveled. None other than legendary Folk troubadour Ramblin' Jack Elliott said "I love Dan's songs and he tells really good stories."
Originally from New York and now living in Vancouver, Wash., Weber's songs have been described as "Guthrie-esque and reminiscent of early John Prine" and "A rare combination of wit, emotion and Harry Chapin-esque imagery." The UK's Maverick Magazine said: "4 Stars: The touch of a true Master Craftsman songwriter" and The Victory Review wrote "Weber's writing is as strong as any in the Contemporary Folk community."
After the success of 2015's release of "What I'm Lookin' For," a 14 song CD of classic folk and Americana that climbed to #6 on the charts and included "Oh Woody" as well as the breakout hit "(I Deal with) Crazy ALL Day," an everyman's anthem and crowd sing-a-long favorite, Weber is working on his first live recording and new material for an upcoming CD. If his phenomenal growth in such a short period of time is any indication, it promises to be his best work yet.