Duos night in Mansfield on Saturday, with Genna & Jesse, Neptune's Car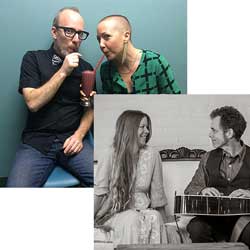 In the heart of winter, the bitter cold cries out for a warm complement. At 8 p.m., Saturday, Jan. 14, the Rose Garden Coffeehouse in Mansfield offers a respite on a cold winter's night, featuring Duos Night, an intimate evening with Genna & Jesse and New England's Neptune's Car.
Genna & Jesse, who call themselves gypsies and nomads, bring to the stage a unique alchemy of intricate vocal harmonies, a quirky chemistry and ardent storytelling, as they perform anything from world music, to folk, soul, blues, jazz, torch songs and popular music from the 60s and 70s. These modern troubadours shrug off music industry conventions and call their style of music "retro soul pop," and it's a joyful mix that will have audiences wanting more.
Splitting the bill will be New England duo Neptune's Car, the acoustic pairing of Holly Hanson and Steve Hayes, who play original, contemporary folk music. They bring to the stage acoustic country-folk duets with strong harmonies. Holly's light soprano blends perfectly with Steve's warm tenor. Vibrant lyrics and compelling melodies nestle in their inviting arrangements, telling us stories rich in detail, from a miner's life in "A Blue Sky Turned to Rust," to "Emily Dickinson," told with lyrics as beautiful as the poet's work. Their three albums have appeared on many "Best of" lists and have charted in the top 5 on Folk radio twice.
The Rose Garden is held in the Congregational Church, 17 West St., Mansfield, Mass. Doors open for the 8 pm show at 7:30 p.m. Advance tickets are $16 and may be purchased at www.rosegardenfolk.com. Tickets are also available at the door for $20.