3 finalists to compete in Mansfield in 25th annual songwriter contest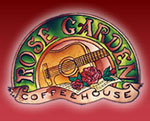 After reviewing more than two dozen entries sent in from all over the country,  the Rose Garden Coffeehouse organizers have chosen three singer-songwriters who will appear at the Mansfield, Mass., venue to perform their songs live on May 20. The three will take the stage just before the featured performance by Cliff Eberhart. The three finalists are:
Ric Allendorf, Middleboro, Mass.
Rob Flax, Jamaica Plain (Boston), Mass.
Abbye West Pates, Memphis, Tenn.
Stephen Ide, the Rose Garden's artistic director, says the entries were of tremendous quality this year. "It was difficult to narrow our choices down to just three," he says. "but I think we have picked three outstanding finalists. This is a special year for us, since it's our 25th competition, and we are really looking forward to hearing was Ric, Rob and Abbye will be bringing to our audience."
Every year, the contest draws entries from all over North America, from Washington state to Texas to Toronto to Maine. There were 26 entries this year, and one came from as far as Idaho.
Ric Allendorf is a native New Englander who has spent nearly half of his life as an acoustic musician, illustrator, art educator, and breadsmith. He performs from Cape Cod to Boston, both as a solo artist and in the duo 'Still Willow'. Ric's music is a tool of navigation and anchoring; pulling deep into the familiar narratives of love, loss, and renewed hope while holding as steady and supportive as a mast. Since discovering Boston folk and acoustic music scene in the 1980s, Ric's musical influences have grown to include traditional folk and blues, to Celtic/British fingerstyle players, to modern Americana singer-songwriters.
Multi-instrumentalist Rob Flax describes his music in a concise way: "I play things with strings, I hit stuff, and I sing." Behind this simple tag line lies a rich depth of genre-bending, from classical and jazz violin to bluegrass fiddle, to blues and rock influences, and beyond. In his "One Man Band" shows, Rob uses a looper pedal and other effects to transform his violin into an entire symphony of sounds. Rob is a recent graduate of the New England Conservatory, where he received his master's degree in Contemporary Improvisation, and he currently lives in Boston.
Abbye West Pates is a songwriter and storyteller based in Memphis, Tenn. Born and raised in southern Mississippi, she often writes about the small town that raised her and the city that's grown her up. Inspired by folk/Americana artists like Patty Griffin and authors like Wendell Berry, Abbye tells stories that locate you in a particular place with a particular people. She explores life's real struggles – addiction, grief, anxiety – reminding us of grace and faith and forgiveness in the midst of it all.
Three industry-professional judges will choose this year's winner. They include: Courtney Rodland, Membership and Communications Coordinator of Club Passim, Cambridge; Ken Ross, longtime features/entertainment editor at The Sun Chronicle, based in Attleboro, Mass., and Rick Santos, owner of Rick's Music World in Raynham, musician and host of weekly open mic.
Following the songwriters on May 20, Cliff Eberhardt will perform two full sets  of music. The singer-songwriter, folk, rocker, bluesman and keeper of the faith is a hard-scrabble touring performer who has been dazzling audiences for more than three decades, inspired by contemporary folkies to having shared the stage with Richie Havens.
—
Advance sale tickets for the May 20 performance and full information on all the performers may be found at www.rosegardenfolk.com. Doors open for the 8 pm show at 7:30 p.m. Advance tickets are $18 and may be purchased at www.rosegardenfolk.com. Tickets are also available at the door for $22.
The Rose Garden's all-volunteer staff serves home-baked dessert items and hot and cold drinks of the season before the show and during intermission. The Rose Garden Coffeehouse, is a 501(c)(3) not-for-profit organization entering its 28th season of continuous operation. It is located at The Congregational Church of Mansfield, 17 West St., and is wheelchair-accessible and alcohol-free.