Traditional folk, Celtic music in Mansfield on Saturday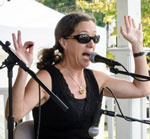 Rhode Island's Atwater-Donnelly Trio performs percussive folk and Celtic music, stellar harmonies and songs, with a wide range of instruments. They'll be returning to Mansfield's Rose Garden Coffeehouse on Saturday, Nov. 18.
At the core of the group are Aubrey Atwater and her husband Elwood Donnelly. For decades they have performed traditional music in New England. Rounding out the trio is fiddler and cellist Cathy Clasper-Torch, who adds just the right flourishes and harmonies to fill out the group's sound.
There's something about Atwater-Donnelly that is incredibly endearing. I love hearing them play some fast-paced traditional number, or sweetly affecting harmony song, then watch Aubrey start clogging. Elwood breaks out his limberjacks and Cathy takes off with some wonderful fiddling.
They are a favorite groups at the Rose Garden, returning every few years or so. They are funny, spontaneous and supremely talented. People are amazed at all the instruments they play and how they seem to be having as much fun as the audience.
The group plays a wide range of instruments, from guitar and fiddle to Appalachian mountain dulcimer, cello, mandolin, tin whistle, harmonica, banjo, bones, spoons and limberjacks (dancing puppets). Atwater also is an onstage powder keg, as she demonstrates Appalachian clog dancing and French Canadian footwork.
The last time the trio performed at the Rose Garden, in 2013, they were outside, in the pavilion on Mansfield's South Common. But the Nov. 18 show will be inside, at the Rose Garden's traditional venue in the Congregational Church, an intimate setting ideally suited to this talented trio.
People can expect the unexpected.
"One of my favorite parts of our creative life is crafting shows right before the watchful eyes and ears of our audiences," says Atwater. "As we survey the crowd, talk to people, and get a feel for our surroundings, we make snap decisions, selecting what song, dance, or instrument feels just right at that moment."
The Rose Garden Coffeehouse, is a 501(c)(3) not-for-profit organization in its 29th season of continuous operation. The event will start at 8 p.m. in the Congregational Church, 17 West St., Mansfield, Massachusetts. The doors open at 7:30. It's wheelchair-accessible and alcohol-free. Tickets can be purchased online at www.rosegardenfolk.com for $16, and for $20 at door. The Rose Garden's all-volunteer staff serves home-baked dessert items and hot and cold drinks of the season before the show and during intermission.