Abbie Gardner, award winning singer-songwriter, dobroist, in Mansfield on Saturday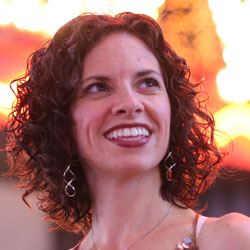 The last time Abbie Gardner performed at Mansfield's Rose Garden Coffeehouse in 2009, she was a twinkling star in the all-female trio Red Molly. The group dazzled the Rose Garden crowd with a mix of folk, bluegrass, country, Americana styles and more. Gardner returns to Mansfield at 8 p.m. Saturday, having just released her second solo CD, "Wishes on a Neon Sign," described as "a soulful examination of love and heartbreak, pain and strength, and the transformative power of hope."
The CD is her first, though, since taking a hiatus from Red Molly. It is an exploration of musical styles and collaborations, as well as a celebration of New York City, which she calls home. While Boston sports fans have their attitudes about New York sports teams, most can appreciate the lure of the city.
"The record feels like a love letter to NYC" Gardner says. "I love the contrast here, how darkness makes Times Square shine brighter, how New Yorkers can seem so gruff but will help you the instant you fall."
Gardner is taking the resophonic slide guitar — traditionally a male-dominated instrument — from its traditionally rural roots, and letting it blossom, with her, in the city. It seems only natural that she finds big-time collaborations to drive her sound. An award-winning songwriter, Abbie's solo tour has included prestigious venues such as the Falcon Ridge Folk Festival, the Clearwater's Great Hudson River Revival, the Virginia Arts Festival and many more.
Her CD is an alluring collection of barroom burns and bedroom ballads deeply steeped in folk, blues and country traditions. She cowrote "Bad Leaver" with country star Chris Stapleton, "Empty Suit" with Nashiville songwriter David Olney and bandmate Molly Venter in "Cold Black Water." She also includes some originals from her work with the all-female songwriting collective "Real Women, Real Songs."
Opening for Gardner will be award-winning, Middleboro singer-songwriter Ric Allendorf, who recently released his first CD, "Take It All In." Allendorf, who was a finalist in the Rose Garden's Performing Songwriter Competition last May, has spent over half his life pursuing acoustic music, illustration, arts instruction, and sourdough "breadsmithing." Influenced by the Boston acoustic music resurgence of the '80s, as well as Celtic and British fingerstyle players, Allendorf's music invites the listener into themes of commitment, loss, renewal and forgiveness with the instincts of a visual artist, immersed in a New England sensibility.
The doors to the show open at 7:30. The show starts at 8 p.m. Tickets are available here. The Rose Garden Coffeehouse is located in the Congregational Church, 17 West St., Mansfield, Mass.