Grace Morrison & Lisa Bastoni in Mansfield on Saturday, Oct. 20 | Video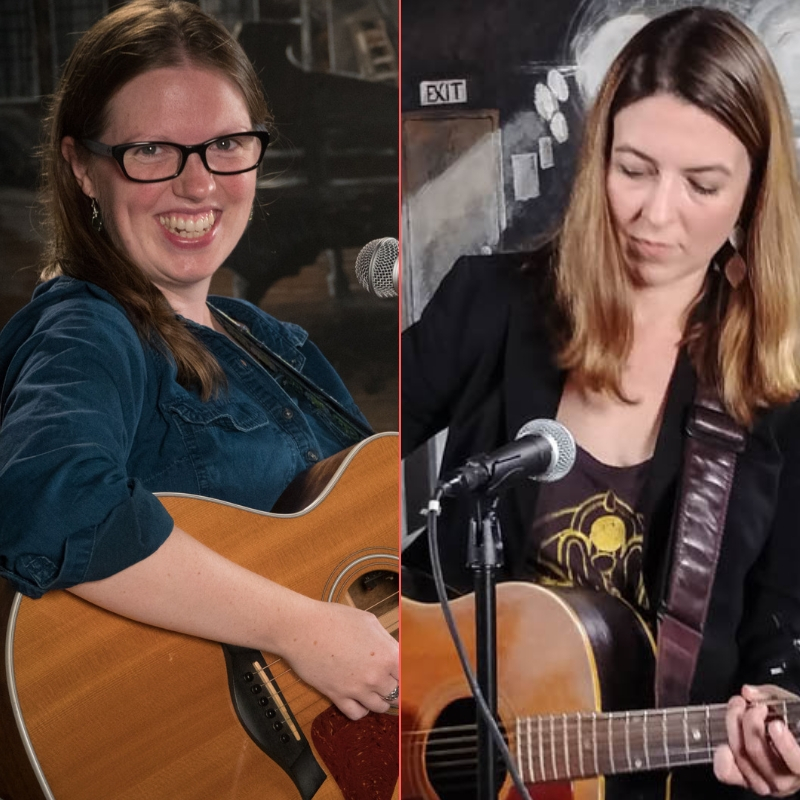 Two of the region's top singer-songwriters, Grace Morrison and Lisa Bastoni, will debut at the Rose Garden Coffeehouse in Mansfield, Mass., on Saturday, Oct. 20, 2018.
Tickets are now on sale for this show.
"This is a chance to hear stellar singing and songwriting from a couple of the best the Boston folk scene has to offer, in an intimate setting," said Stephen Ide, the Rose Garden's artistic director. "What better way to celebrate our 30th season than to bring in a pair of rising stars?"
Morrison mixes seemingly effortless musicality and original storytelling. She turns turns deeply personal and historical stories into song for listeners from all walks of life. Though much of her show is lighthearted and she often gets audiences smiling and laughing, some of her songs take on that personal, historical tone.
"I've always been super interested in history, but mostly trying to put myself in the perspective of whoever I was reading about," she said in a local cable television interview. "My grandfather was on Normandy beach on D-Day. But growing up he was not a man who ever talked about it. I remember very few things that he would say. And so it just got me thinking he clearly had emotional trauma from war, which affected my mother, which affected me. So for me, that particular subject, I was thinking about how many generations does it affect? And with any sort of human atrocity, I mean it just trickles down. That's generally how I view history."
Last year was a turning point for Morrison as she released her first full length CD: "I'm The Apple." The deeply personal album is full of catchy choruses, history, emotion and storytelling; all key elements of her unique style. Morrison is a regular on the national festival circuit and has won a number of prestigious awards including the Eventide Arts Songwriting Competition and the Big Break contest where her music video was played on the season finale of "American Idol."
Watch and Listen to Lisa and Grace on Mansfield Cable Access:
Bastoni's vibes and lyrics hit close to home. Songs like "Rabbit Hole," grand prize winner of the Great American Song Contest, looks back on intimate memories and regrets while understanding the maturity that life has fostered. Or then there's her search for redemption in "Wichita," a look back on Midwest experiences. Either way, her vocals are powerful, her images vivid, her stories personal in nature.
Her music has been described as Americana, many of them touching back on old times and snapshots of America. Her songs are usually personal, often based on things that actually influenced her in her life. She says she has a songwriting process that includes making lists or writing narratives of the stories that will become songs.
"A lot of it is pretty personal and it comes from my own experience," she said, adding that the stories are true, with some embellishment.
Bastoni, who has opened for Lori McKenna, Arlo Guthrie and others, will also showcase her skills in November at the New England Regional Folk Alliance conference. In 2017 she returned to the stage after a 10-year break from music, after a career change and having two children. She put out a popular CD, "The Wishing Hour," produced by Grammy-nominated songwriter and producer Felix McTeigue (Anais Mitchell/Lori McKenna) and is going into the studio for her next project.
---
The Rose Garden Coffeehouse, is a 501(c)(3) not-for-profit organization in its 30th season of continuous operation. The event will start at 8 p.m. in the Congregational Church, 17 West St., Mansfield, Massachusetts. The doors open at 7:30. It's wheelchair-accessible and alcohol-free. Tickets can be purchased online at www.rosegardenfolk.com for $16, and for $20 at door. The Rose Garden's all-volunteer staff serves home-baked dessert items and hot and cold drinks of the season before the show and during intermission. The Rose Garden is supported in part by a grant from the Mansfield Local Cultural Council, an agency which is supported by the Massachusetts Cultural Council, a state agency.