Bill Staines, legendary folk balladeer, returns to Mansfield | Videos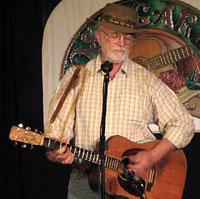 Bill Staines, whose songs have been sung by many contemporary musicians and are known by parents and children alike, will return to Mansfield's Rose Garden Coffeehouse on Saturday, Nov. 17.
Staines, who is based in New Hampshire, has played several times at the Rose Garden, the last time only a couple of years ago.
"Bill Staines is one of the most enduring musical voices in folk music today," says Stephen Ide, the Rose Garden's artistic director. "We are thrilled to have Bill back to help us celebrate our 30th season."
After touring and playing concerts for over four decades, you would think that the musician and songwriter might think about slowing down, but that's just not the case. Staines continues to perform more than 175 shows a year and drives close to 70,000 miles getting to them.
Staines has 26 recordings to his credit and has written more than 300 songs, many of which have been recorded by the likes of Peter, Paul, and Mary, Makem and Clancy, Nanci Griffith, Glen Yarborough, and Jerry Jeff Walker. His music is sung at campfires and folk music gatherings, in homes and churches, all around the country. Songs like "All God's Critters,"  "The Roseville Fair," "Child of Mine," and "River," have become folk music classics. Composer David Amram once described Bill as "a modern day Stephen Foster. His music will be around a hundred years from now."
On stage, Staines is an intimate, compelling performer, out of the folk scene of the 60's, encouraging his audience to sing with him on his chorus songs. He will mix in traditional tunes with his own contemporary folk ballads. His humorous tales of life on the road and observations of everyday people provide an entertaining blend of story and song.
"I have always wanted to bring something of value to people with my songs," Staines says. "I think that is important, to try to write beyond myself, to write to the great things that we all experience in our lives."  For Staines, that is what folk music is all about — a music rich in the human experience and spirit.
Staines' music is a slice of Americana, reflecting with the same ease his feelings about the prairie people of the Midwest or the adventurers of the Yukon, the on-the-road truckers, or the everyday workers that make up this land.
—
The Rose Garden Coffeehouse, is a 501(c)(3) not-for-profit organization in its 30th season of continuous operation. The event will start at 8 p.m. in the Congregational Church, 17 West St., Mansfield, Massachusetts. The doors open at 7:30. It's wheelchair-accessible and alcohol-free. Tickets can be purchased online at www.rosegardenfolk.com for $16, and for $20 at door. The Rose Garden's all-volunteer staff serves home-baked dessert items and hot and cold drinks of the season before the show and during intermission.